Tutorials
Making an open source COVID-19 face shield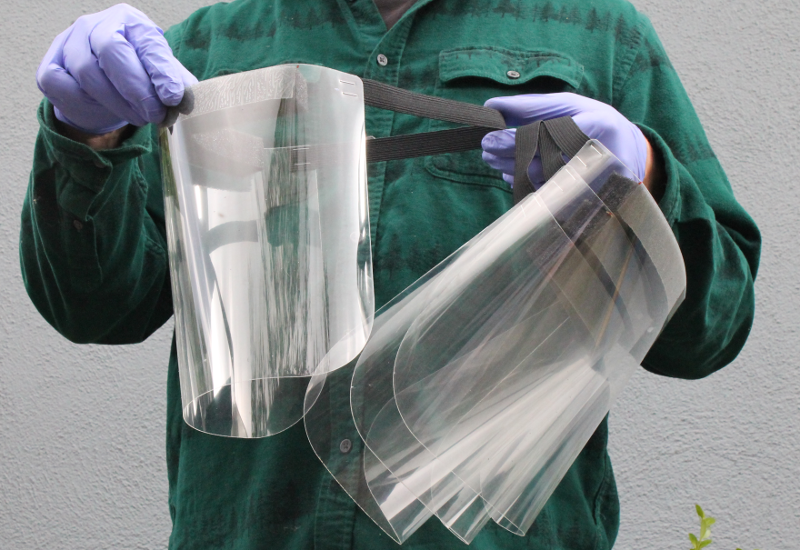 Like many people, we have been alarmed at the reports of the lack of personal protective equipment (PPE) for healthcare workers on the frontlines of the COVID-19 pandemic. We have been following the work of many individuals and groups on social media making open source PPE as we try to determine how we can help. One design we like is a face shield from University of Wisconsin-Madison Makerspace, Delve and Midwest Prototyping described here: https://making.engr.wisc.edu/shield/. The shield is also listed on https://getusppe.org/makers/face-shields/ as a first choice for face shields.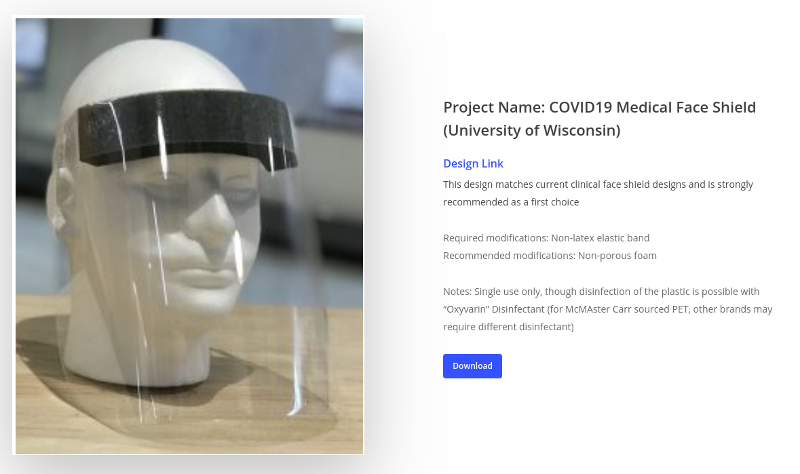 This design looked easy for us to make with our laser cutter. We are able to keep using our equipment as we are a home-based business so we can still work while staying at home.
In this blog post we describe our experience making a set of four face shields. After going through the steps below we estimate we could make hundreds a day if needed. The estimated cost per shield is around $2 not including shipping and tax.
Parts and instructions
Instructions and part numbers can be found here: https://www.delve.com/assets/documents/OPEN-SOURCE-FACE-SHIELD-DRAWING-v1.PDF
We ordered the following 3 items:
Face Shield: 0.007" thick clear polyethylene film (PET),  McMaster-CARR PN 8567K64.
Brow Foam: Adhesive Backed Polyurethane Foam 1" thick, McMaster-CARR PN 8614K84
Head Band: 3/4" x 36' elastic latex fabric, McMaster-CARR PN 88225K68  
Per shield cost
PET - $39.02, 32 pieces from material = $1.22 per piece
Brow foam - $9.60, 72 pieces from material  = $0.14 per piece
Elastic headband - $22.41, 33 pieces from material = $0.68 per piece
Total materials cost per face shield = $2.04 plus shipping+tax
Step 1: Laser cutting the clear polyethylene (PET) shields
We ordered the 120" x 40" roll of clear PET film
Each mask is 13" wide x 9" tall and our laser cutter bed is 36" x 24"
We are able to fit four (4) masks on a 30" x 20" sheet of PET film so we first cut a 30" strip from the roll, and then cut that strip in half to yield 2 x 30" x 20" sheets
A sheet was taped onto the bed of the laser cutter and four pieces were laser cut as shown in the images below
.dxf files for laser cutting can be found here https://github.com/iorodeo/uw_face_shield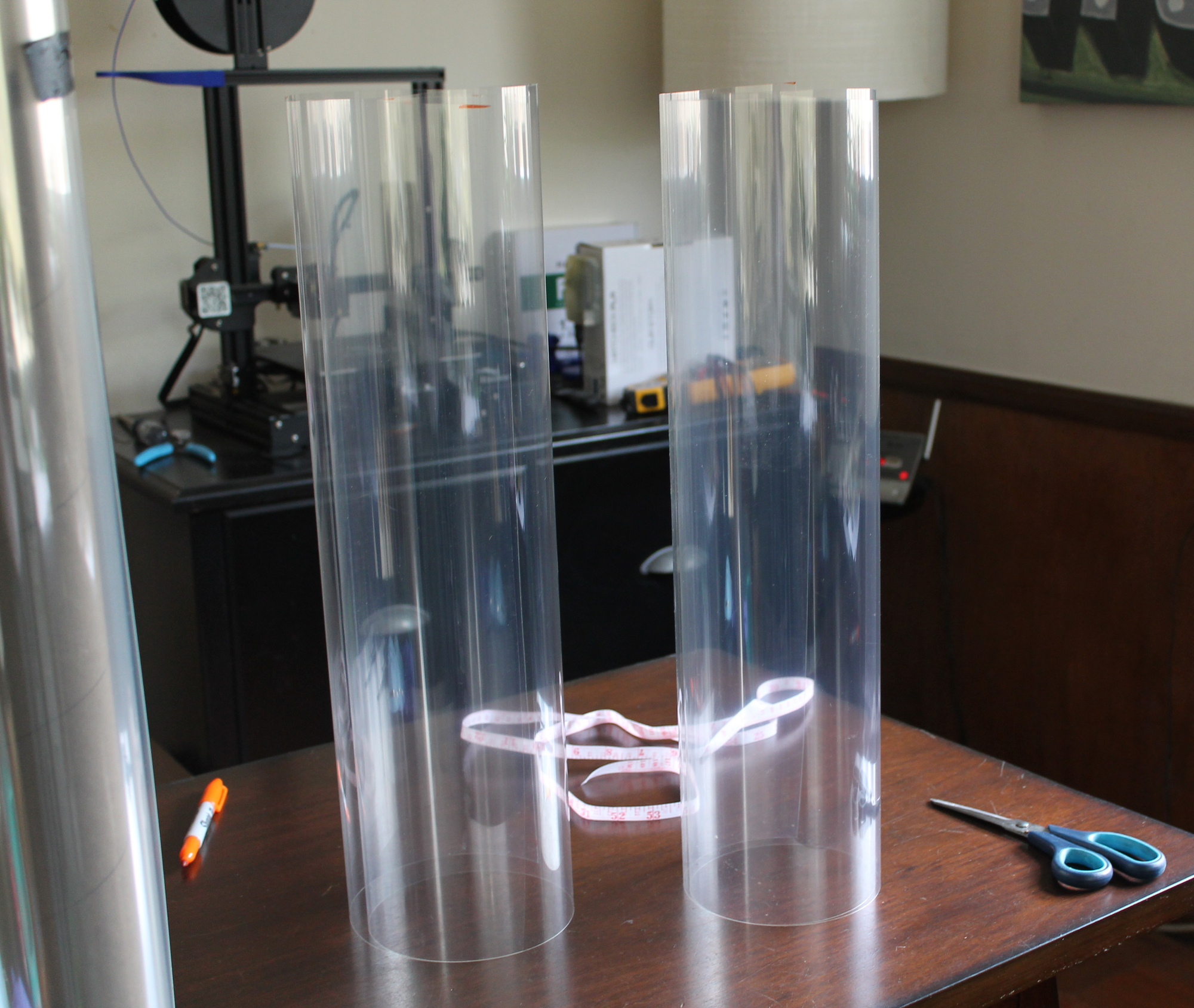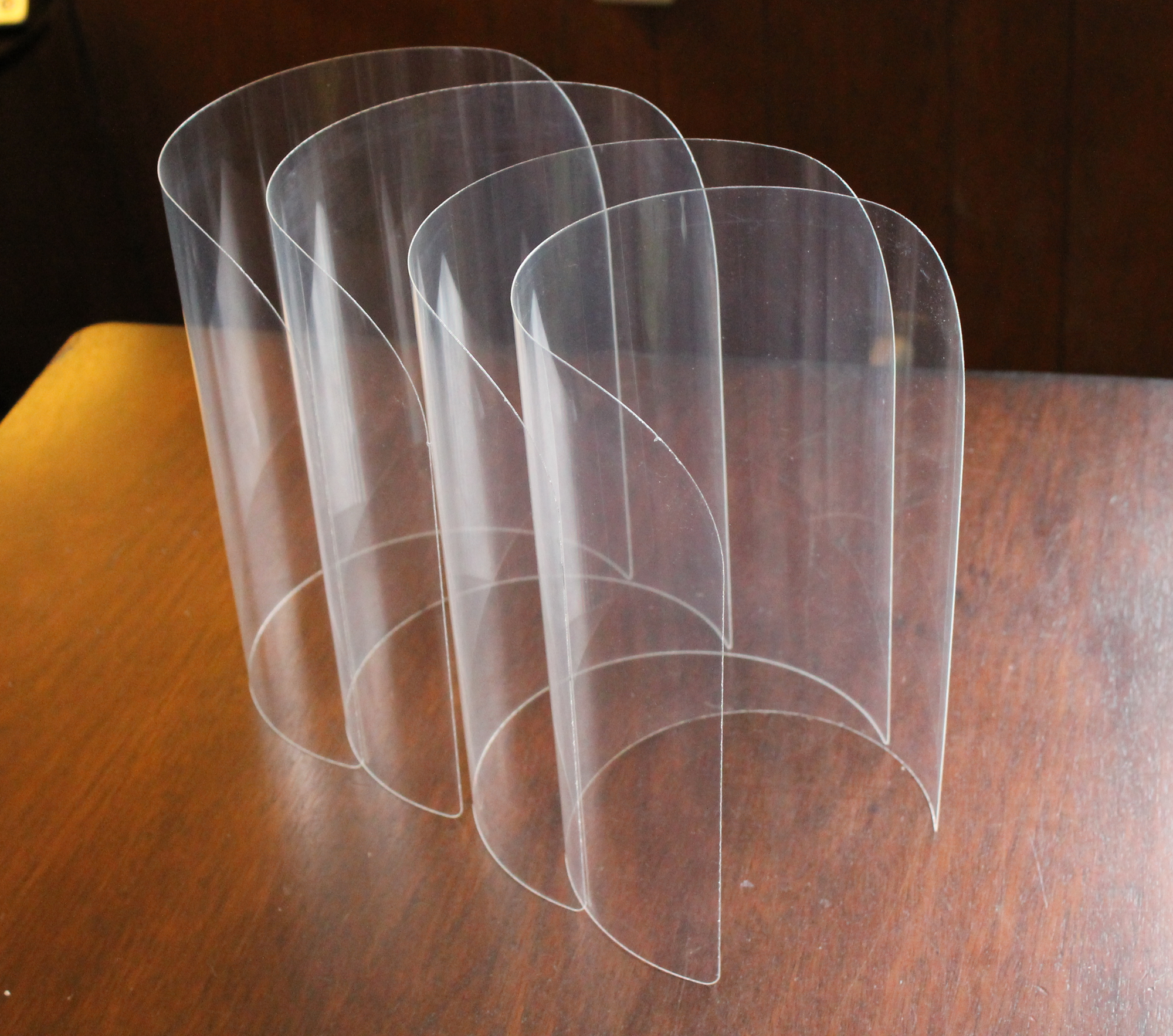 Step 3: Cutting the brow foam
The foam headbands are made from 1" thick adhesive backed polyurethane foam in a 12" x 54" sheet. First we cut an approximately 9" long piece using scissors. Next we used a band-saw to cut this section into 12 x 1" wide strips.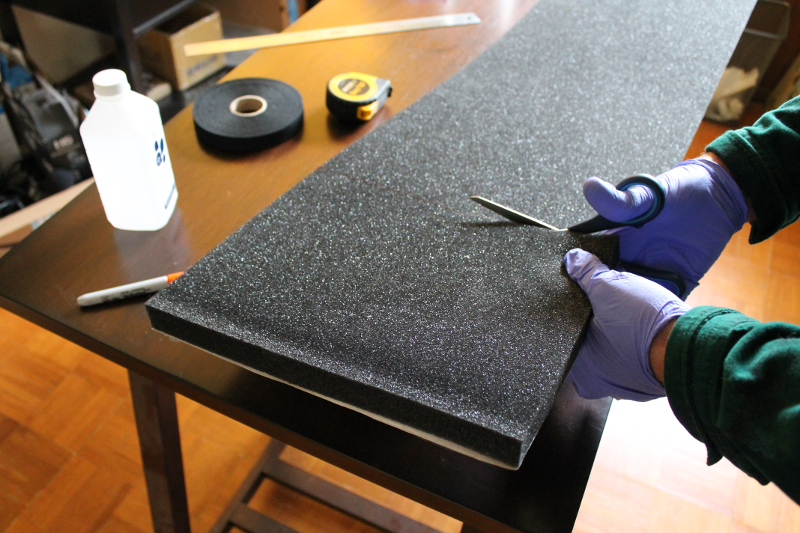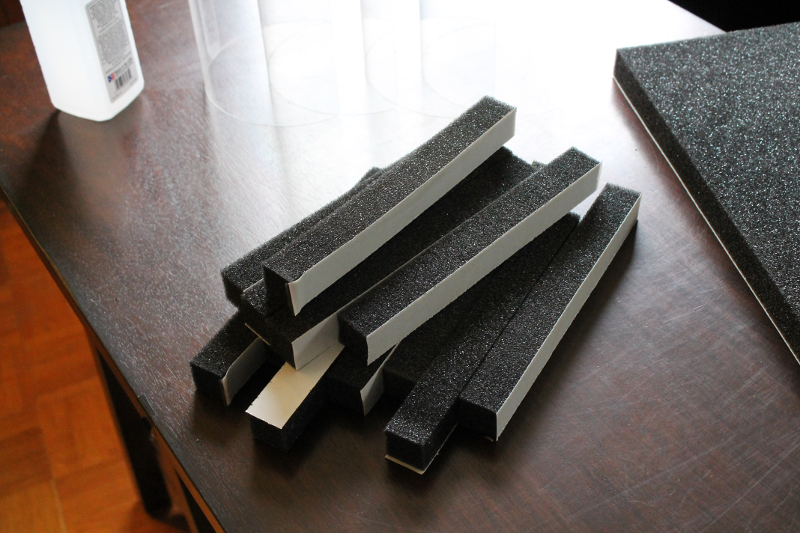 Step 4: Cutting the elastic headband
In the original face shield instructions, the elastic headband used is 1" wide. However, this part was on back-order when we looked on McMaster-Carr, so we ended up getting the 0.75" wide elastic band. The instructions say to cut this into 13" long pieces. This is easily carried out using a measuring tape and scissors.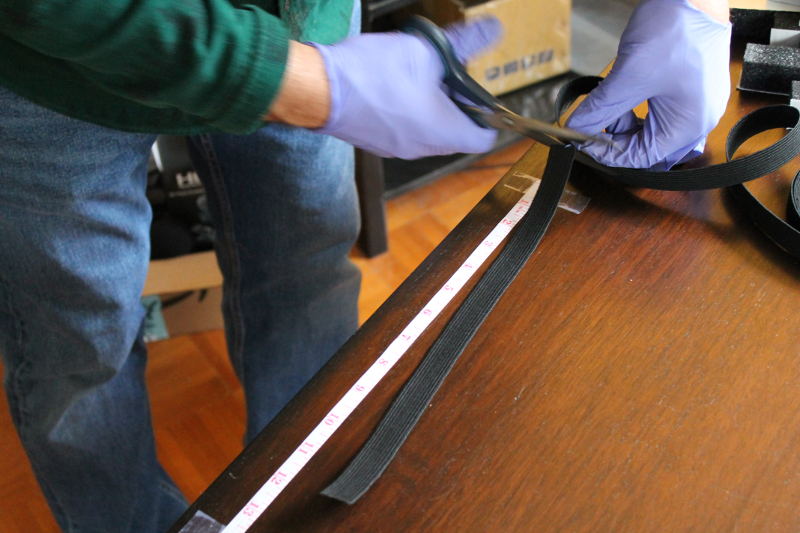 Step 5: Assembly of the shield
Assembly was carried out exactly as described in the original instructions. First the brow foam was attached to the clear shield: the paper backing was peeled off and the foam pressed onto the shield leaving two inches on either side. The elastic headband was attached using staples.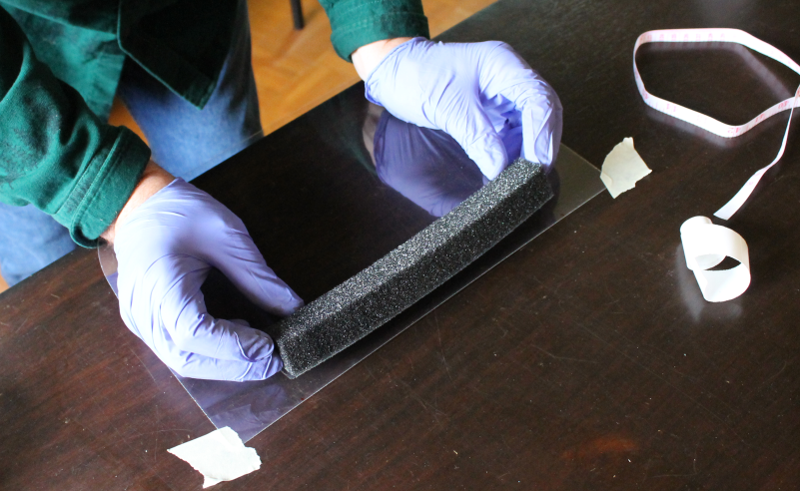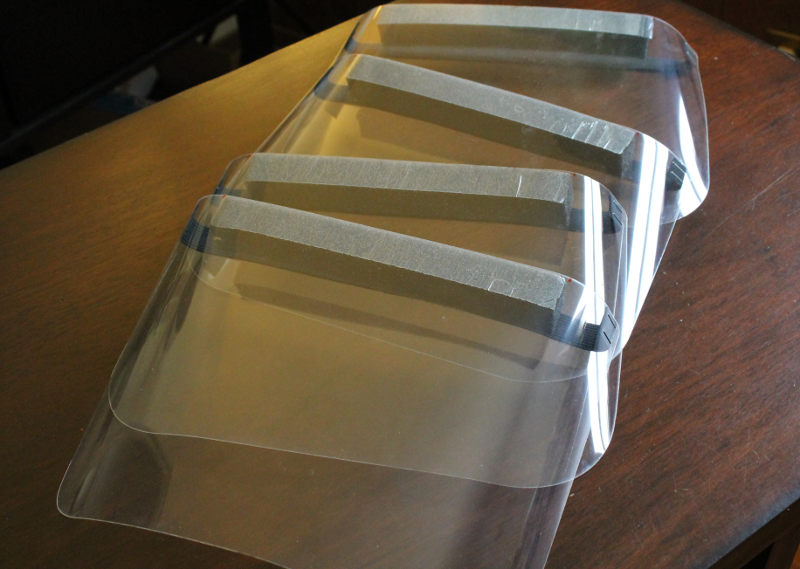 Final Images
Here are some final images of the face shields after assembly and ready to use. We can report that it is comfortable to wear and fits snug.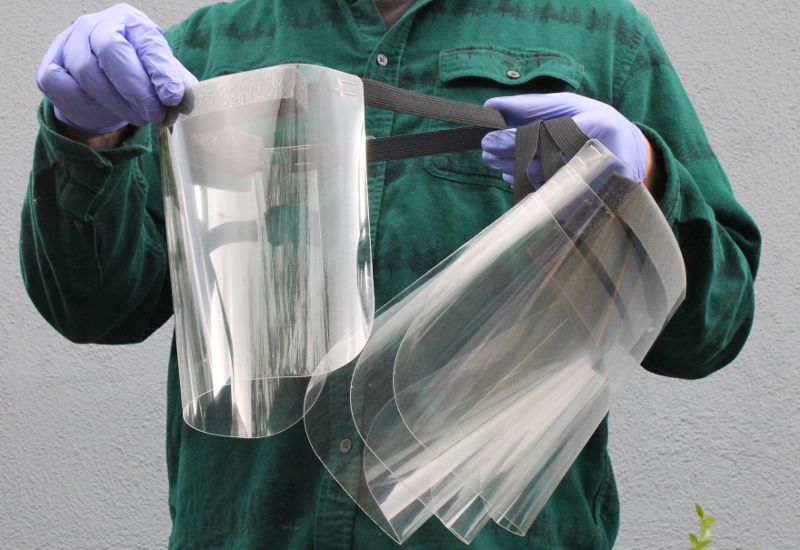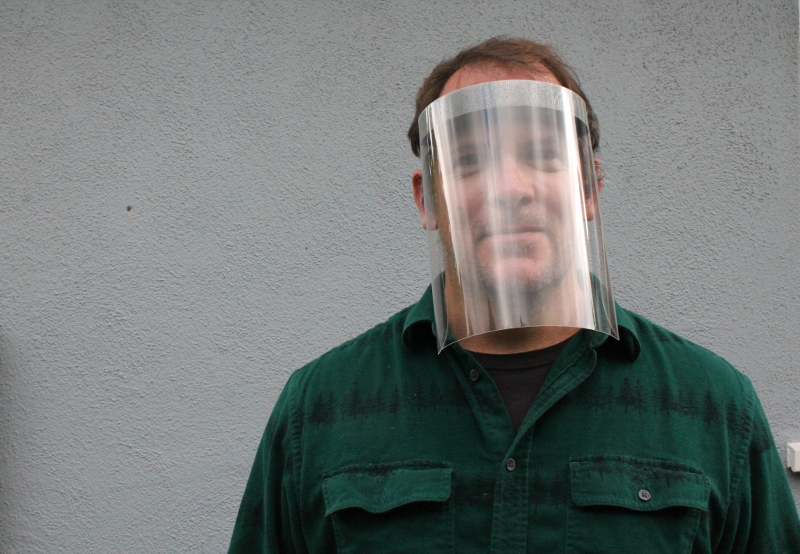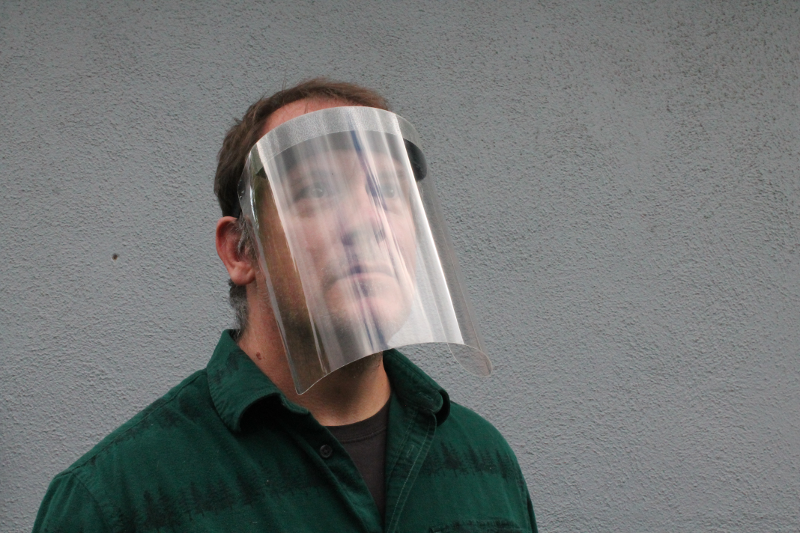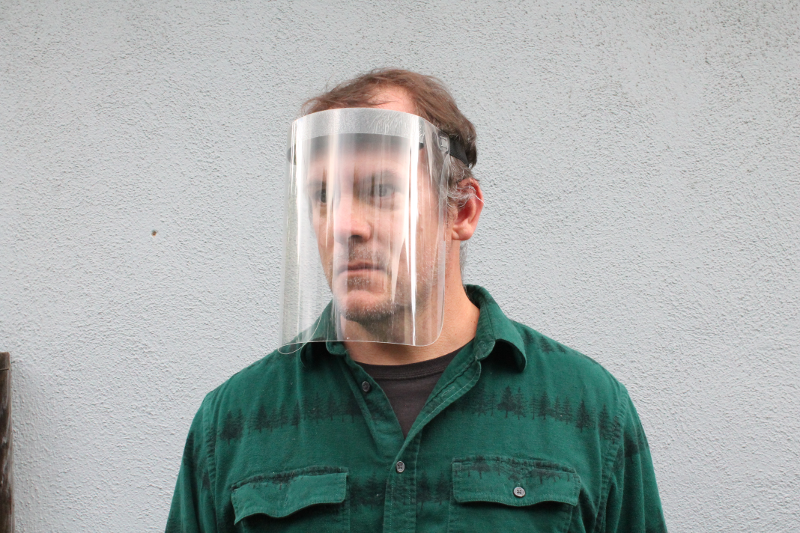 Next steps
We will be looking to manufacture and donate as many shields as we can to our local healthcare workers and hospitals. The website https://getusppe.org has a map of donation sites so we might start there. We will keep posting here with any news.